FIRST CLASS
customer service and advice
LEADING HONG KONG
employee benefits provider
1000s
access to 1000s of policies
ADVICE
expert advice on cost saving
MESSAGE FROM THE CEO
Welcome to Alliance Insurance Services, the premier Hong Kong insurance broker supporting the local and international community across a range of insurance and financial services.
Alliance has been proud to deliver some of the best products and services to our clients throughout our history and our goal is to continually exceed expectations and remain as a market leader in the years ahead. The continued success of Alliance Insurance Services is dependent upon our customers trust which we endeavor to uphold though the work of our dedicated team. Every employee in Alliance Insurance Services has a vested interest in living up to the highest standards of ethics and professionalism. We firmly believe that our culture and core values make us different and have contributed to our record of success an accomplishments.
Looking ahead Alliance Insurance Services aspires to be the best company in its field, a company that creates value for its customers by delivering high quality and unparalleled independent advice. Over the years we have achieved many extraordinary goals and we continue to place the bar high for the future and look forward to rising to the challenges ahead. We are driven by our inner passion to excel and do our best for the community that we are part of.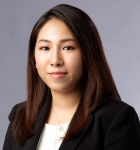 Jenny Chan
Chief Executive
Jenny Chan, Chief Executive, joined Alliance Insurance Services in 2016 tasked with the overall management of Alliance Operations and Compliance functions. Having held high profile positions within the Alliance Group and the Hong Kong insurance market since 2013, Jenny Chan was nominated Alliance Insurance Services Chief Executive and MPF Responsible Officer and accepted by the Professional Insurance Brokers Association and Mandatory Provident Fund Schemes Authority in 2019.
In this role, Jenny is responsible for the overall day to day management of Alliance Insurance Services along with developing and implementation of the company's business strategy. Jenny graduated from the University of Manchester with a bachelor's degree in Management and went on to complete an International Business Master's Degree at the University of Aston; in addition Jenny has achieved insurance and financial services industry qualifications including Insurance Intermediaries Qualifying Examination (IIQE) 1, Principles & Practice of Insurance; IIQE 2, General Insurance; IIQE 3, Long Term Insurance; IIQE 4, MPF; IIQE 5, Investment Linked Long Term along with Securities and Futures Commission Licensing Exam 1.
Today, Jenny Chan is a leading figure in the Hong Kong insurance market and works closely and in partnership with international insurance companies for the development and distribution of the best protection for members